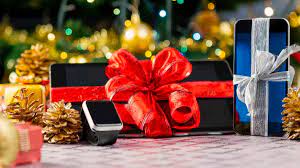 With the jingle-jangle of the Big Man's sleigh bells fast approaching, we are all frantically chalking-up Christmas lists for our loved ones and hanging up our children's stockings; wondering what we can fill them with when Christmas Eve casts its magical shadow over our homes.
Thankfully, 2022 has been an excellent year for gizmos and gadgets, making this year's festive shopping frenzy that little bit easier. So, kick back, put your feet up and join us as we take a look at some of the top tech Christmas ideas for 2022.
Apple Watch Series 8
Falling in at just shy of $400 (USD), the Apple Watch Series 8 is far from a cheap gadget. However, with an abundance of cutting-edge technologies bundled into the device, you get plenty of bang for your buck. Having only been on the shelves since September 16, this gadget will appeal to even the most fashion-conscious members of your family.
With the freshly-launched WatchOS 9 (because why put any imagination into naming an OS), this year's watch-to-have boasts improved workout functions and temperature monitoring (for the ladies). Furthermore, with its in-built crash detection feature, the Series 8 will kick into action should the wearer be involved in a traffic collision. Not only will it automatically notify your emergency contacts, but it will also send your location to emergency services. The Apple Watch Series 8 not only looks stylish – it could also save lives.
Ring Doorbells
Despite having been out for a while now, 2022 has brought with it a huge increase in popularity surrounding Ring Doorbells. Hooking up to your smartphone, these flashy doorbells allow you to see and communicate with whoever happens to call around – be it from your favorite armchair or even poolside while on vacation, miles away from your home.
Aside from the obvious ease-of-life uses for the Ring Doorbell, they are also fantastic devices in terms of home security. These space-age door devices automatically record and alert the user when motion is detected, making them an ideal way to add a new layer of security for the home.
Surprisingly, one of these watchful ringers can be yours for under $100. An ideal gift for someone moving into a new home or unable to walk to the door due to a disability.
QuickCharge Pro
In today's day and age, we all rely heavily on our smartphones and devices. More to the point, we all know that one person seemingly has their phone glued to their hand permanently. The QuickCharge Pro (no prizes for guessing what this does) is the ideal gift for that tech-obsessed relative this Christmas.
The QuickCharge Pro is the brainchild of a group of tech enthusiasts from San Francisco that were fed up with waiting around for their devices to charge up. The result of their collective tech knowledge (techknowledge?) was a device that can charge up to four devices four times faster than conventional chargers.
The benefits of the QuickCharge Pro don't stop there either. Smart Integrated Circuit (IT) Technology delivers a carefully controlled voltage to ensure there are no overheating or explosive issues. If you have a phone that gets hot when charging or know someone that does, this is the ideal solution.
QuickCharge Pro is available now for just $22.99.
Summary
This Christmas we are lucky enough to be awash with technology gift ideas. The above products are our current top picks and would make even the fussiest of people happy when the day rolls in. Stay tuned for more Christmas ideas and for when we will be taking a look at some of the top gadgets coming our way in 2023.
Merry Christmas.